CYBEX Libelle Ultra Lightweight-Compact Stroller

Description

As the lightest ultra-compact stroller in the line, the CYBEX Libelle is designed for everyday adventures. Its lean frame folds into a space-saving package that can fit in overhead compartments, under train seats or in the trunk of your car – making it the ideal second stroller.
Shipping & Delivery

Shipping is FREE WORLDWIDE. Your order will be processed within 24 hours. U.S. orders deliver in 2 to 5 days (all other others will deliver in 12 -14 days). For more details visit Shipping & Delivery.
Returns & Exchange

We have a 30-Day Guarantee. If you are within 30-Days of receipt of your purchase, you are eligible for a full refund or exchange (see our Product Guarantee Policy).
Weighing only 13.7 lbs., this stroller is portable enough to take practically anywhere!
FEATURES
✔️ Ultra-Lightweight: The CYBEX Libelle is portable enough to take practically anywhere. Its lean frame folds into a space-saving package that can fit in overhead compartments, under train seats, or in car trunks.
✔️ A Single One-hand Fold: The Libelle is ultra-compact. It's a self-standing package for easy storage anywhere. When folded, the CYBEX Libelle is even hand-luggage compliant with most airlines for convenient storage.
✔️ Ergonomic Design: The one-hand recline function includes a near-flat lying position for easy naps on the go, and the integrated leg rest supports comfortable and ergonomic sitting and lying positions. All positions can easily be adjusted with one hand.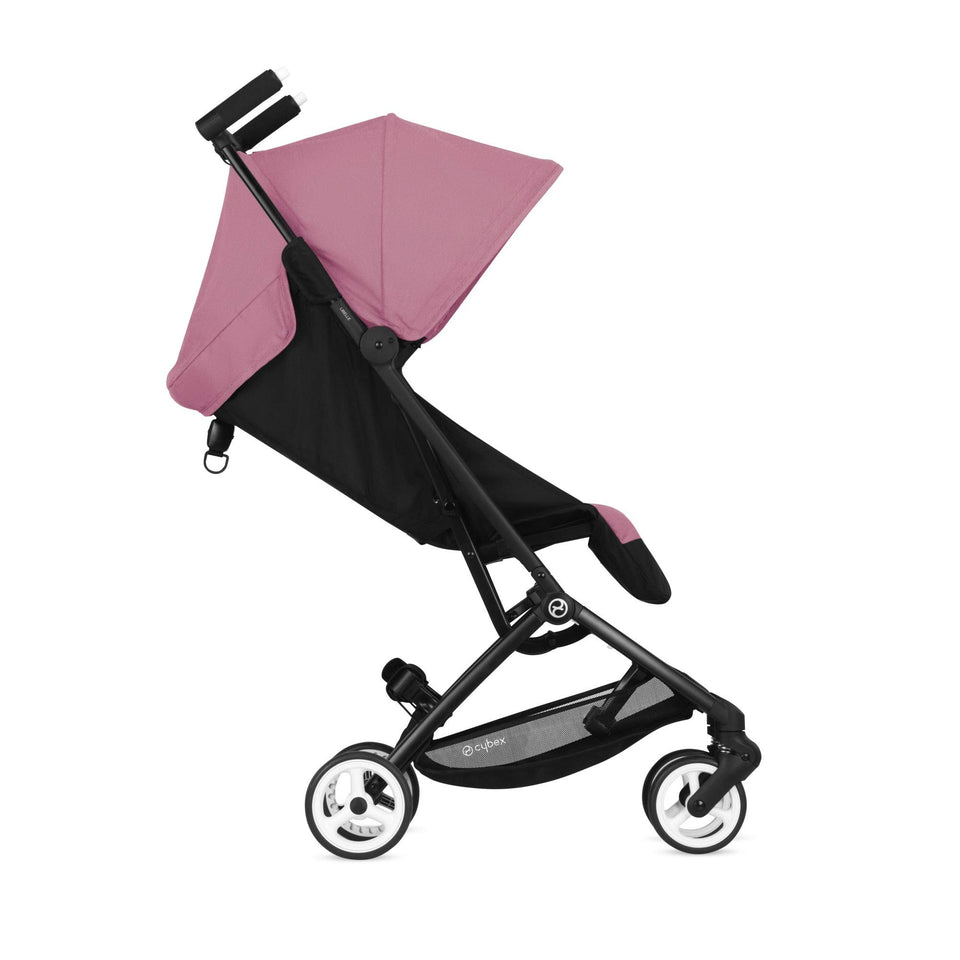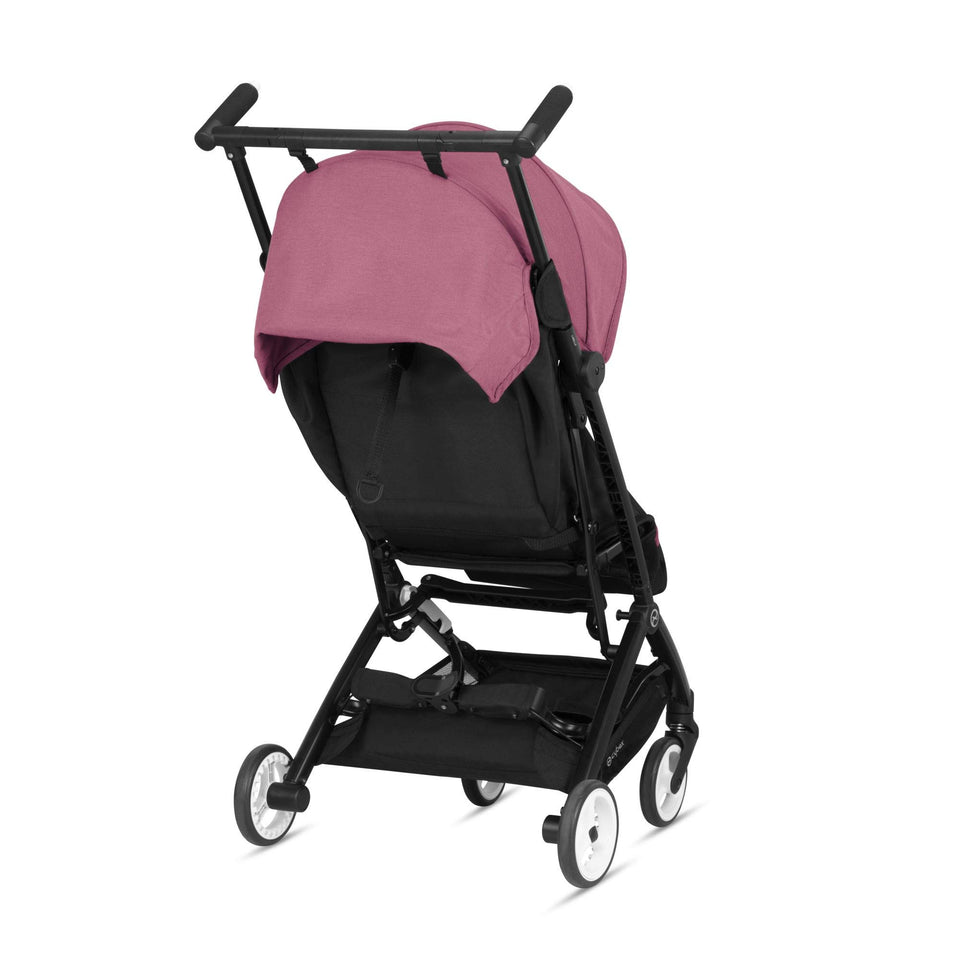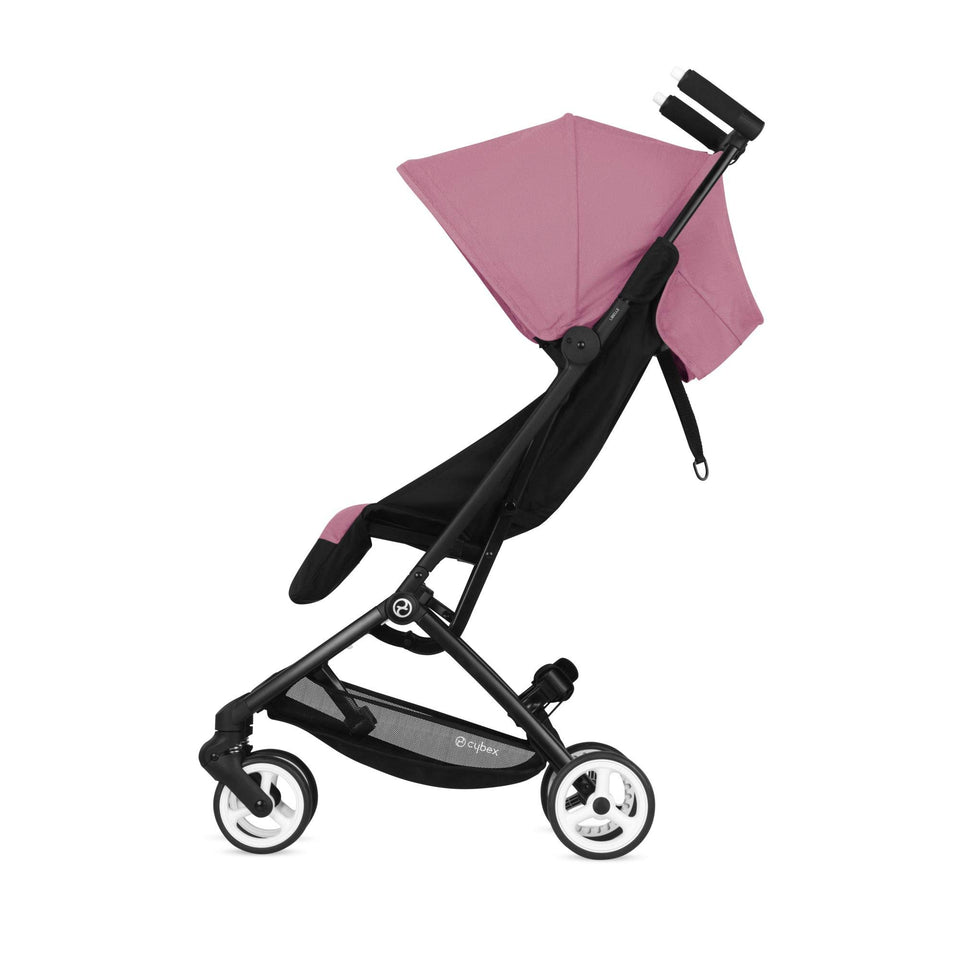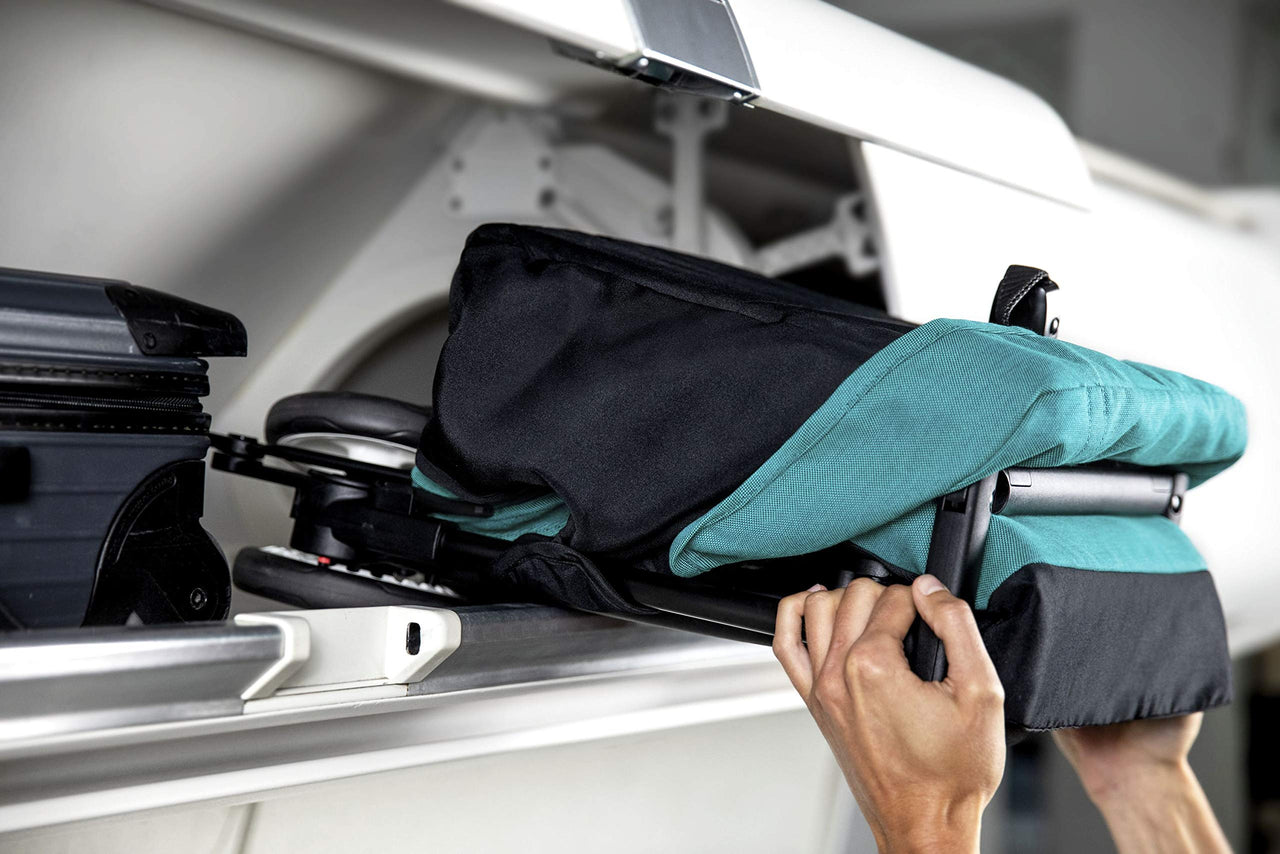 ULTRA COMPACT
For quick and hassle-free storage on the go. the Libelle Compact Stroller folds easily into an ultra compact package that's hand luggage complaint with airlines.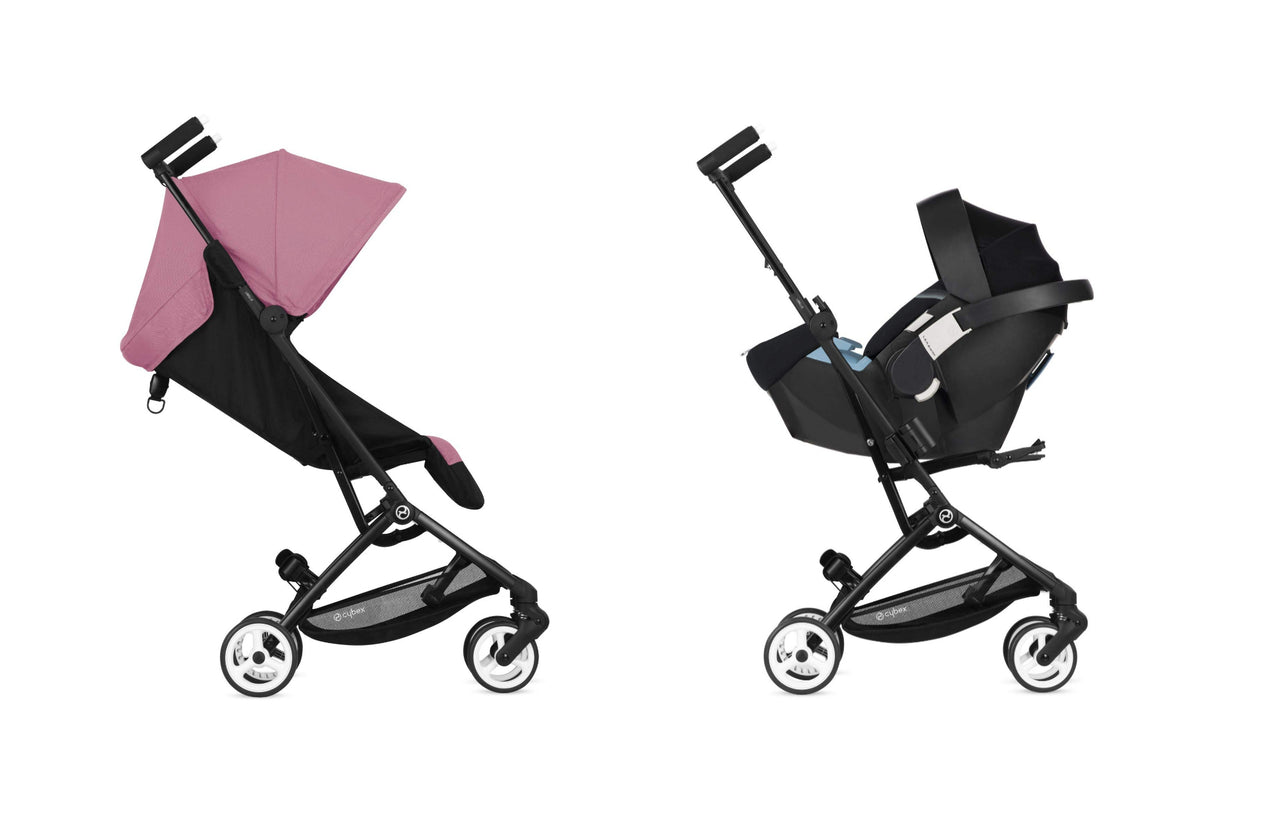 Travel System
The Libelle Compact Stroller combined with our Award Winning Infant Car seat, gives you the extra flexibility for your adventures.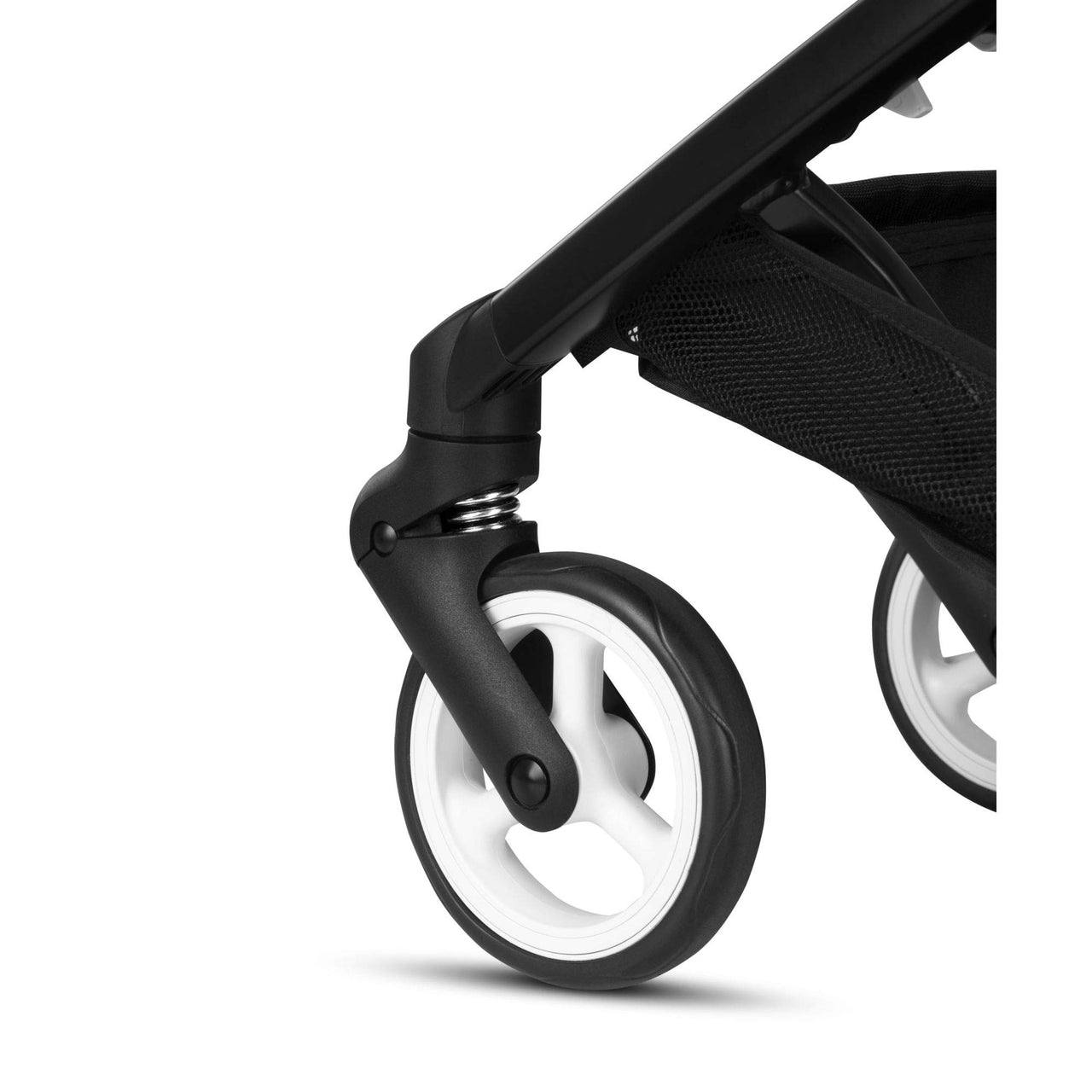 Wheel Suspension
Take your adventures anywhere with smooth, front-wheel suspension that provides steady handling for you and a smooth ride for your little one.
Libelle Ultra-Compact Stroller Video
Accessories for the Libelle
SPECIFICATIONS
Measurements Assembled: 28.7" L x 20.3" W x 40.9" H
Measurements Folded: 12.6" L x 7.9" W x 18.9" H
Weight: 13.7 lbs.
Use from birth with any CYBEX infant car seat. Seat unit suitable from 6 months to 55 lbs.
Every parent will be happy to have this
The stroller's weight is just nice for any mother to carry around. It is so easy to fold it into compact size. The wheels are smooth. The only complaint I have for it would be the handle portion is too light. Without your kid sitting on it, you cannot put too much pressure on the handle or else it will flip.
Great for travel and easy carry on daily basis
Awesome travel stroller, with one caveat
I LOVED this stroller last year. It was sturdy, compact, great for travel and the fold was amazing. I bought a few strollers before deciding on this one for travel. However, I had to sell it this year. My 2.5 yo no longer fits the straps and her head is over the seat back. I think we could have gotten one more summer out of it had the straps fit... so buyer beware if you have a toddler with a long torso!Also, what is up with the HUGE price increase? I bought this brand new last summer for $200. Geez.
Easy to use stroller for in the go mom
I love this stroller, it was already put together, the instructions were super easy. And the fact that it folds so compact is amazing. Will save so much trunk space in my car, and I know my daughter will love it!
BEST travel investment EVER
This is basically the best version of the go- stroller, because Cybex owns the brand that makes the cheaper version of the travel stroller. Cybex took all of the best things from those strollers and made it prettier and better!!!! It was a DREAM in the airport. Genuinely was a life saver
Our Commitment to You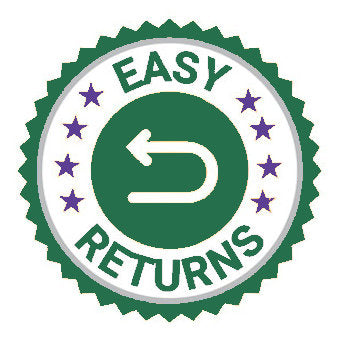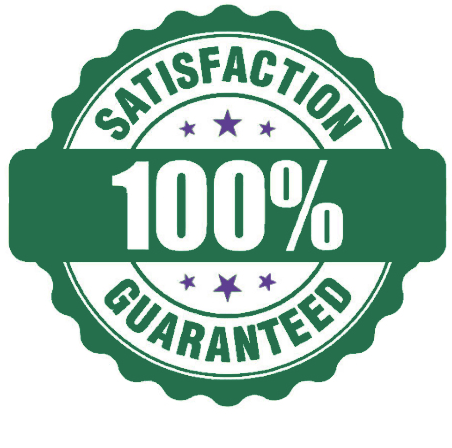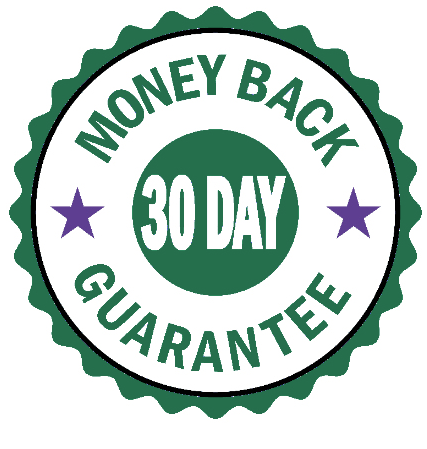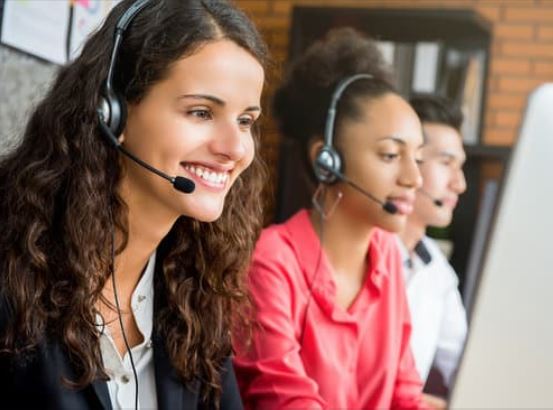 OUR PRODUCT GUARANTEE
At Dicey's we understand the challenges of everyday parenting. That's why we want to make sure that you have a memorable experience when you shop with us.
If you don't have a 100% positive experience, we will make it right! Just contact our customer service team and let us know your thoughts.
✔ Your Happiness is our Priority!
✔ 100% Customer Satisfaction is our GOAL!